News Archive
Show Archive » Recent Work » City Of London »
Lord Mayor's Show 2008 - ...Added November 20, 2008
We have been providing PA system solutions for the Lord Mayor's Show and parade floats for some years now.
This year was no different, and we duly accepted the challenge to fit as huge a PA system as possible, into a relatively small space, with no mains power available!
After last years success, kitting out the Mitsubishi L200 for sound, our client obviously thought we were having it too easy, and set us the challenge of fitting the same rig, but this time in a Citroen Berlingo.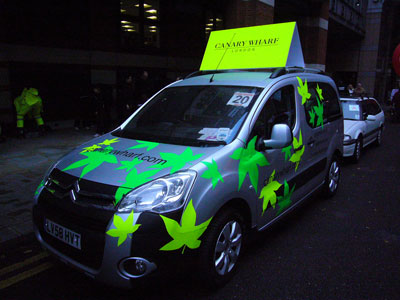 Once again, our man on site was Matt Stolton, our Technical Director:
"This was very awkward. All previous vehicles had cable routes to run power from engine bay back to the noisey end. This berlingo had no such luxury. I had to "wing it" a bit, but still do a quality job, without damaging the brand new car, all under the watchful eye of the main dealer!"
"Luckily I do enjoy a good technical challenge, and managed to get it all working."
Despite attrocious weather conditions on the day of the event, meaning the speakers had to be moved to stop them getting wet, the Citroen rolled on through the streets of the City Of London, reinforced by a troupe of fluorescent roller bladers, dancing behind.
Feedback from the Client was, once again, extremely positive, and the Lord Mayor's Show 2009 will no doubt rock to one of our systems.
---
---