News Archive
Show Archive » Recent Work » St. Mary's, Mother Of God, Hornchurch »
Complete New PA System - ...Added December 6, 2008
We have recently completed this particularly involved job, where we had to not only provide high sound quality, but also had to meet with a very high aesthetic standard.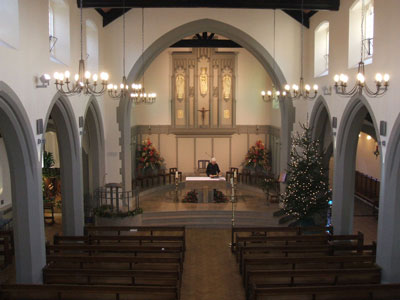 Working in close liason with the stone masons, we managed to conceal all the new cabling on the new alter, not least in the lectern. Here, we also managed to fix two gooseneck microphones, complete with rubber shock mounts, with completely hidden fixings!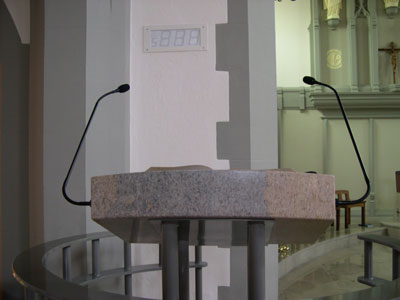 Throughout the rest of the building, we managed to conceal virtually all the microphone, speaker and induction loop cables, as well as keeping the speakers themselves almost invisible. Those that had to be seen, were chosen and located to be be as visually pleasing as possible.
The system uses the latest automated mixer technology, to give maximum gain before feedback, as well as high end QSC amplification for long term reliability.
The room acoustics were a problem, with it naturally sounding like a typical church with a very long RT60 time. This was not helped with the choice of speaker location being made for aesthetic reasons rather than performance criteria. However, we applied a range of DSP options to the system, and managed to get a very reasonable and intelligable level out of the PA system.
A new AFILS induction loop amplifier was also fitted, and the loop aerial itself tidied to improve reception to hearing aid users.
All of this was completed whilst having to leave this busy church with a working PA system at all times. We managed to schedule work in distinct phases to accomodate this requirement, without causing any problems for day to day use.
As ever, the work was completed to the great satisfaction of the client, on budget and on schedule.
---
---