News Archive
Show Archive » Recent Work » London Buses »
Victoria Bus Station - ...Added September 25, 2003
We are very proud to have recently completed installations at a number of major Bus Stations around London. These include Aldgate, Golders Green, London Bridge, Stratford, and Victoria.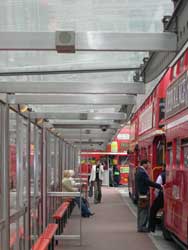 Bespoke Shelter Speakers
The system at Victoria is based upon serving four bus stands, or islands, where passengers wait to catch there bus.
Built into each bus shelter are some rather 'cute' custom made speakers. These were developed between ourselves and speaker manufacturer Penton, and are finished in a stainless steel that matches the metal used in the bus stands.
In addition to the public waiting areas, there are also more general areas, specifically where people are walking between the rail station and the bus station. These are served by Toa PA Horns, mounted at high level.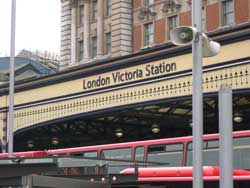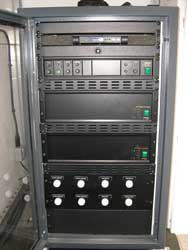 The Amplifier Rack featuring Baldwin Boxall Amplifiers
The control and switch gear sits in a custom rack, and houses all of the amplifiers, relay cards and independant zone attenuation. The system allows the Bus Station controllers to page to any one, or more, of the 8 different zones around the area, or the entire site as a whole, from a base station microphone.
The controller can also page the entire site, whilst away from his booth, by means of a walkie-talkie system. There is also spot announcements, made every 3 minutes, some of which are pre recorded, but also allow the controller to record there own messages as needs arise. In a worst case situation, there is also an evacuation announcement built into the system.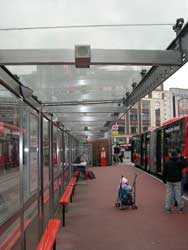 ---
---