News Archive
Show Archive » New Products » Allen & Heath »
iDR Range - ...Added November 25, 2005

We are now proud dealers of Allen & Heath!
Part of our work with the E10 venue in Leyton, was to find a suitable central control system, that would allow us to have complete control over all aspects of the audio chain, and allow easy user interfaces for the bar staff to interact with.
Of all the products on the market, the one that stood out from the crowd was the Allen & Heath iDR range. The key product is the iDR8, which features 8 inputs and 8 outputs, and is essentially a fully fledged full format mixer, and full outboard DSP processing in a compact 2U box. Along with the software and a laptop, the equipment is fully customisable to any purpose you can think off.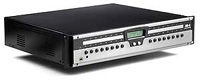 It also features a range of control interfaces, called the PL range. These plates have a range of faders, switches and rotary encoders that can be set-up to control any feature in the iDR brain, and are fully tailorable to meet any custom requirements that a venue may have.
Matt Stolton, our Technical Director, attended and passed the Blue level training offered by Allen & Heath, to get us started on the myriad of functions that the iDR series offers. The training was held at the Allen & Heath factory in Cornwall.
"The course was really useful, and has opened my eyes to the power of the iDR system. It was also great to see the factory, and I was very impressed by the scale of the operation, but also by the attention to detail, and continued Quality Control throughout the entire manufacturing process"
"The software and flexibility of the iDR range is awesome but, perhaps more importantly, it sounds great, with a real warmth that I didn't expect to hear from a digital DSP product."
For more information on what the iDR range can do for you, please feel free to contact us.
---
---